Cooper Ross is officially a BYU Cougar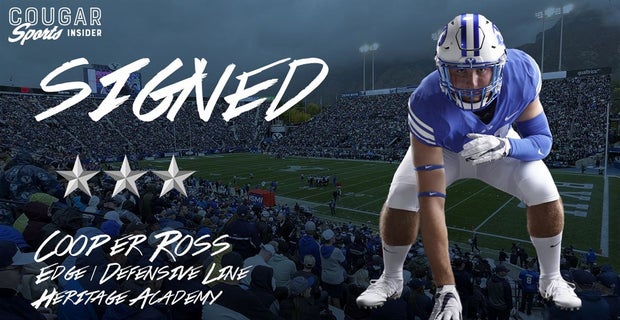 Cooper Ross has officially signed his National Letter of Intent and has officially joined the BYU pipeline. He is one of the most intriguing players in the class of 2022. Ross, who preps at Heritage Academy in Arizona, played eight-man football throughout his high school career. But that didn't prevent him from showing the BYU coaching staff enough to cause them to believe that he can be an impact player in Provo down the road.
The Story: Eight-man football is a different game. It doesn't bring the same level of physicality as traditional football does, and it looks a lot different on film. But, at its core, it is still football. And good football players shine no matter what kind of football they are playing. That is the case with Ross.
He is a big bodied athlete, standing at 6-5 and 245 pounds. He plays with strength and he plays with aggression. He is a force to be reckoned with on the field and he hopes that he can bring that level of play to BYU.
Ross camped at BYU this summer and impressed the coaching staff. They offered him a scholarship and he quickly accepted the offer and committed to the Cougars.
The Player: Ross is big and strong. That seems like a cliche statement, but that is the best way to describe his game. He has the physical attributes required to become a dominant tight end at BYU. His prowess as a receiver is evident in his experience in eight-man ball which is more open and much more pass heavy, and he has the size and strength to develop into a powerful blocker.
His recruitment was slow. Prior to BYU, he had received attention from primarily FCS programs. After BYU offered, he shut down his recruitment and didn't allow himself the opportunity to see his profile climb. BYU was his dream school and there was no reason to chase additional offer or recruiting attention at that point.
2COMMENTSThe Expectations: Ross is expected to serve a mission for The Church of Jesus Christ of Latter-day Saints before he enrolls at BYU. When he comes back, BYU will find the best fit for him on the field. While he could become a tight end for the Cougars, his size and strength could also help him develop into a defensive end in the mold of Bracken El-Bakri from last season. How he develops on his mission and what kind of shape he is in when he returns home will dictate how quickly he is able to get on the field.
His potential is incredibly intriguing. Every time I watch his film, I'm more optimistic about him making a big impact for BYU in the future.